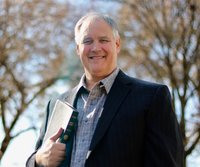 Paul S. Ellis
Reverend Paul Standish Ellis, 54, of Phoenixville, Pennsylvania passed away on August 8th, 2019 surrounded by his loving family at Seasons Hospice in Phoenixville. Paul Ellis was born on January 22, 1965 to Junior and Elaine (Linde) Ellis of Swea City, Iowa. Pursuing a ministerial calling, he graduated with a Bachelors of Arts in Pastoral Studies from North Central Bible College where he met his loving wife of 31 years. Paul and Sharon (Culbertson) Ellis were married on July 23, 1988 at First Assembly of Defiance, Ohio.
Paul, an ordained minister of the Assemblies of God and member of the Ohio Ministry Network, began his pastoral ministry in Ottawa, Ohio in 1991 where he served as senior pastor until 1995. Then, he accepted the pastorate at Niles Praise Assembly of God in Niles, Ohio. After ministering faithfully for 11 years, Paul witnessed God's blessing of growth in the church body. However, in 2003, God placed a burden for the people of Mongolia in Paul's heart. Paul and Sharon, accepted as Assembly of God World Missionaries, traveled to the country of Mongolia. While in this remote area, Paul learned the language of the Mongols and helped to become a servant to these people in order to show them the love of Jesus until his passing.
He is survived by his wife, Sharon Ellis of Phoenixville, Pennsylvania; son, Joshua Ellis of Phoenixville, Pennsylvania; daughter, Jerilyn (Tyler) Logan of Spring City, Pennsylvania; daughter, Jenette Ellis of Phoenixville, Pennsylvania. He also leaves behind sister, Sue Askren of Garnavillo, Iowa; sister, Clarice (Don) Henderson of Valrico, Florida; brother, Reid (JoAnn) Ellis of Blue Earth, Minnesota; sister-in-law, Marjorie (Garry) Teigland of Georgetown, Indiana; sister-in-law, Kathleen (Randy) Trowbridge of Delta, Ohio, and many nieces, nephews, extended family and friends.
Friends may call on Tuesday, August 13, 2019 from 6 to 8 p.m. at The Shalkop Grace & Strunk Funeral Home, 135 Bridge St., Spring City, or also one hour prior to the funeral at the Grace Assembly of God Church, 1271 Bridge St., Spring City, PA 19475 . A "Going Home" celebration service remembering Paul's life will be held on Wednesday, August 14, 2019, at 10 a.m. at Grace Assembly of God, 1271 Bridge St., Spring City, PA, Rev. Chris Czuchra, Rev. Randy Trowbridge, Rev. Reid Ellis and Rev. Tyler Logan will be officiating.
Memorials may be made to the family for future missional work.